A week ago I walked into my local chain pharmacy to pick up a tube of toothpaste. At the checkout line, the clerk scanned the product and began asking me a series of questions.
"Do you have a store card?" "Can I have your phone number to check our system?" "Would you like to sign up for a store card?"
All this to purchase a $4 item?
Time is money. The longer it takes to intake a new customer, the more money you are losing. Also why should a customer have to get through a ton of required fields before you are able to generate a repair ticket?
When we started building SystemRepairStatus.com, we worked with VideoGamesNewYork, a very busy repair shop in New York City. Their pet peeve with other repair tracking systems is the amount of time it requires to intake a customer repair. It should be effortless and unintrusive to the customers.
We have only one required field. If a customer walks into your place of business and hands you their personal belonging to repair, they should only have to give you the minimum of information. As long as they can identify themselves, that's really all you need to know.
If you are able to estimate a repair completion date, they will return to the store on or after the appropriate time. From our experience, customers do not want to give you their email address or phone number unless is absolutely necessary. The only reason they would give you a physical address is if you will ship their repaired items.
It is useful to build customer information. Typically medium to large businesses would subscribe to CRM ( Customer Relationship Management ) software to help them track detailed information about their customers. System Repair Status is *not* a CRM. Don't get us wrong, we love CRMs. But we'll leave that software to the experts. We're not interested to be all things for all people. We just want to build the best repair tracking software for a small to medium sized business.
Another useful feature is that as soon as your new customer is added, the software creates a blank ticket for that customer.
It's also important to find your customer quickly. Using our typeahead system you can quickly narrow down the list to find the right customer. A few keystrokes are usually all you need.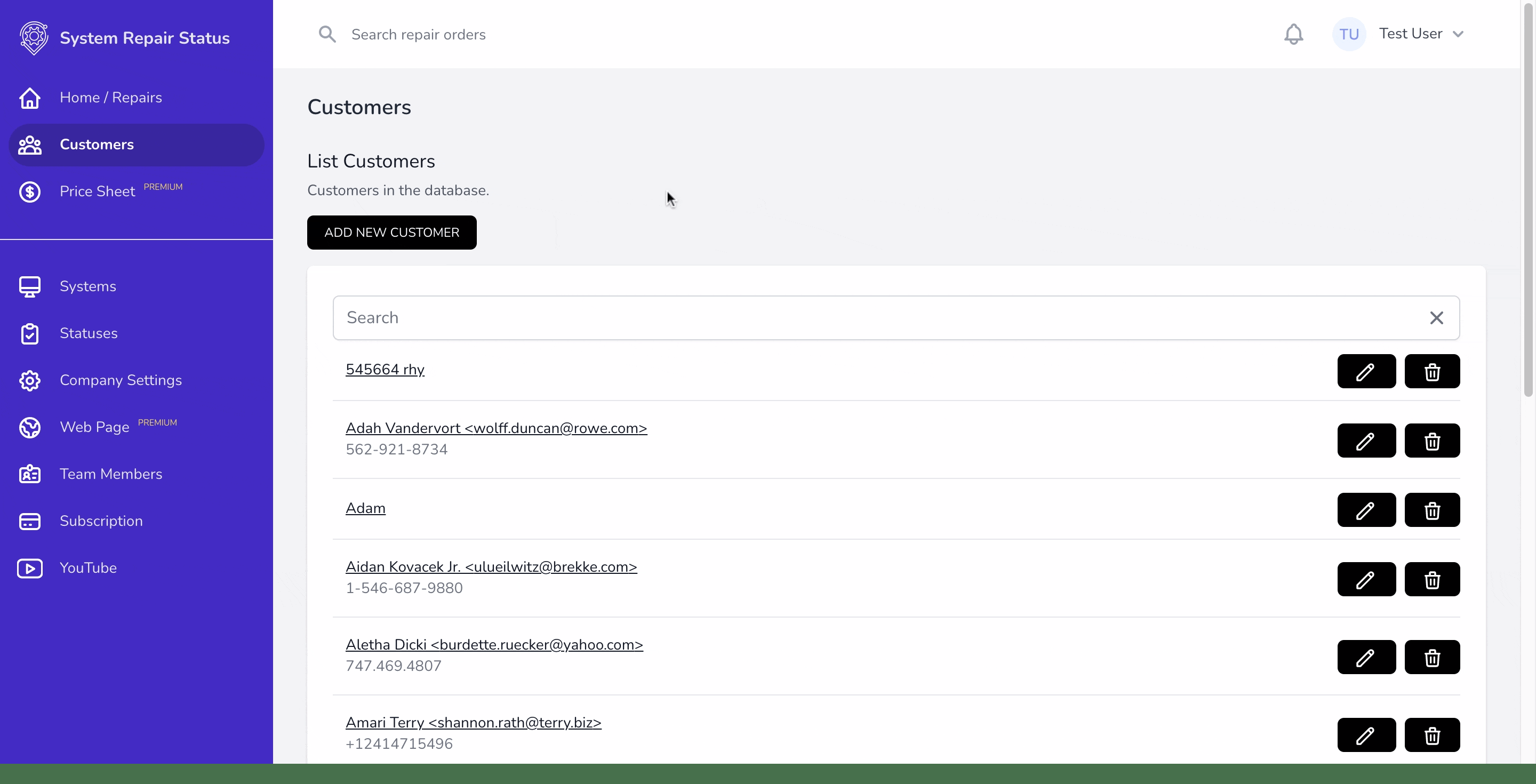 When you find that customer you are presented with all of their current and past repairs. If you run a small shop, this is probably all the CRM you will need.
Check out our previous post about other typeahead features on SystemRepairStatus and our tutorial on building a professional-looking repair invoice.
Thank you for your part in our journey to build the best repair tracking software.